Dear Priory Families,
A couple weeks ago, I let you know about the restructuring of Saint Louis Priory School's administration. As a matter of good stewardship and to help streamline decision-making in the school, we have formed new teams with clearly aligned goals. Today I want to introduce the Priory leaders who will be heading up these teams. This really is more of a re-introduction, because each member of the new leadership team brings a wealth of Priory experience to his or her new role.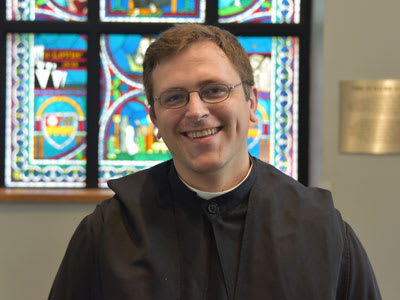 Priory's new leadership team consists of five people. Judy Mohan will serve as Assistant Head of School for Intellectual Formation, Mike Nickolai will become Priory's new Assistant Head of School for Human and Spiritual Formation, Janice Bailey will be Assistant Head of School for Mission Advancement, and Laurie Krieger will be Assistant Head of School for Facilities and Finance. It will be my responsibility, as Headmaster, to lead and support this team while charting a path for Priory's future.
Over the last two years, you have learned a little bit about me: my origins in Pennsylvania, my education at institutions like Priory, the College of the Holy Cross, and Oxford University, and my ongoing work for the English Benedictine Congregation in facilitating culture change. These experiences have prepared me in unexpected ways for my current responsibilities, but none of them explains my love for Saint Louis Priory School. Like the rest of my fellow alumni, Priory is my spiritual home. It was here that I first encountered God in prayer and the Eucharist, joined the Catholic Church, became an altar server, and discerned a monastic vocation. These experiences above all others are what inspire me to continue as your Headmaster. I look forward to melding my training in Theatre, Classics, and Theology with the monastic disciplines of obedience, humility, and simplicity of life as I lead us in seeking God and making his love felt in our community.
I am excited to re-introduce the other four members of Priory's new, more streamlined leadership team. I see each member of the team enhancing, clarifying, and strengthening Priory's mission – in continuity with the past but responsive to the changing circumstances in which we now find ourselves.
Knowing these four leaders as I do – and their passion for, and commitment to, Saint Louis Priory School
-- I am excited about the years ahead! I encourage you to reach out to any of us if you have questions or
concerns. We will continue to be in touch as we revise and prepare our plans for this fall.

With prayers,
Father Cuthbert
Judy Mohan joined the Priory community six years ago after serving as Principal of Rosati-Kain High School, where she encouraged collaborative learning projects and assisted the president in celebrating the school's centennial and leading a building campaign. Her prior teaching experience includes a 24-year commitment to Visitation Academy. In her prior roles as Junior School Director and English teacher, Judy helped students to find their voice and develop their critical thinking skills in both oral and written form and assisted them in forming values that will make them leaders in the 21st century. Judy is a graduate of Northwestern University and Saint Louis University, where she earned a master's degree in English and Educational Leadership. She wrote and defended her master's thesis on humor in the works of Barbara Pym and Jane Austin. She and her husband have raised three children and are proud grandparents.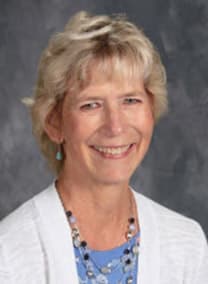 Judy jumped in to lead Priory's Junior School two years ago and did a superb job connecting with new Priory students and parents alike. She has worked hard to ensure that students understand what makes a Priory education so unique by emphasizing Abbot Gregory's "12 Hallmarks of a Benedictine Education," and she improved communication with Junior School parents through her "Notes from Mrs. Mohan" email updates. As Priory's new Assistant Head of School for Intellectual Formation, her work will continue in a new way as she oversees the chairs of each academic department as well as the College Counseling team and the school's Director of Writing and Research – the faculty member who coordinates Priory's unique Senior Thesis program and oversees the School library.
"What I like most about Priory is its Benedictine spirituality that encourages us to 'listen' and to 'love God and our neighbor,'" Judy says.
After graduating from Priory in 2003, Mike Nickolai went to Washington University in St. Louis. He earned a B.A., majoring in English Literature and Film Studies, while also minoring in French. After his undergraduate studies, he worked in Washington, D.C., as a faculty member of a high school leadership program. While in Washington, Mike met his wife Megan. In 2008, he moved to Athens, Georgia, and enrolled in a graduate program in English education at the University of Georgia. Mike returned to Priory in 2010 and taught full time in the English department. In addition to teaching English, he has also coached soccer, cross country, track, and tennis at Priory. He moved into an administrative role in 2015 and most recently served as the High School Director. Mike and his wife live in University City with their three children.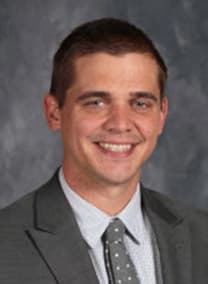 Mike is passionate about Benedictine education. For the past five years, he has participated in the International Commission on Benedictine Education (ICBE) and was appointed earlier this year as the next Co-Commissioner of the Benedictine Educators Network of North America. In this capacity, he also will serve as one of two North American delegates to the ICBE. Last year, Mike developed a student leadership program in conjunction with our Mothers' Club. I'm confident we will be seeing more collaborative efforts like this in the future. As Priory's new Assistant Head of School for Human and Spiritual Formation, Mike will oversee the work of the school's Director of Equity and Inclusion, Director of Athletics, Chaplaincy Coordinator, School Counselor, Student Council moderator, and each of the school's Form Sponsors.
"What I like most about Priory is its combination of faith formation and community values that I have made Priory my spiritual home," Mike says.
Janice Bailey joined Priory in 2016 as Director of Campaigns within the Advancement department. In 2017 she assumed the role of Director of Institutional Advancement, which encompassed all aspects of fundraising and alumni relations. During her tenure, the Advancement team has increased giving by 25 percent and alumni participation has jumped from 9 percent to 14 percent. Her prior fundraising experience includes 25 years at St. Louis Children's Hospital, where she spent the last seven years as the Vice President of the St. Louis Children's Hospital Foundation. She was part of a team that raised $130 million to establish a dedicated pediatric research institute focused on cancer, heart and respiratory issues. Her experience also involved marketing and communications to donors, patient families and employees. Janice is a native St. Louisan but spent much of her childhood in Oklahoma. She has a B.A. in Communications/Public Relations from Drury University. She and her husband Jack have two children and enjoy all things sports related – especially the Blues and Cardinals.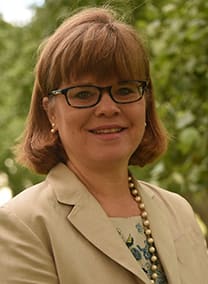 Janice is a natural "connector" who has developed a rapport with literally hundreds of parents, Priory alumni, and alumni parents. She has a keen understanding about what makes Priory such a special place – its sense of community. As Priory's new Assistant Head of School for Mission Advancement, Janice will continue to oversee the school's Advancement efforts along with Admissions and Communications. Janice is a collaborative leader who will engage students and parents through community and financial participation in the life of the school from admissions inquiry through alumni giving.
"What I like most about Priory is the loyalty and dedication of the entire Abbey community to each other," Janice says. "Like the monastic community, being a part Priory is a life-long relationship. Seeing alumni from all classes return to campus regularly is truly a blessing and something you don't see very often."
Laurie Krieger is a Certified Public Accountant with significant public accounting, health care and nonprofit experience. She came to Saint Louis Abbey and Saint Louis Priory School in 2018 in the role of Director of Finance after serving as the Chief Financial Officer for Child Center Marygrove and Queen of Peace Center, both of which are agencies within Catholic Charities of the Archdiocese of St. Louis. Laurie and her husband Michael enjoy spending their free time with family.
Because of her diverse background and experience – and because she's been at Priory for only two years – Laurie brings a "fresh set of eyes" to the leadership team. She already has worked hard to improve and standardize our financial reporting as well as our re-enrollment and tuition assistance application processes.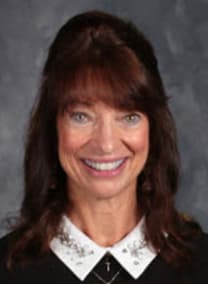 Now, in her new role as Priory's Assistant Head of School for Facilities and Finance, Laurie will continue to oversee the school's Finance efforts -- including budgeting, student billing, accounts payable and accounts receivable – and she also will have oversight of the school's Director of Facilities, who manages building and grounds maintenance and foodservice. In addition, Laurie will serve as Saint Louis Abbey's Chief Financial Officer.
"What I like most about Priory is the sense of community inspired by the Benedictine Hallmarks," Laurie says. "Priory is like a second family."
Saint Louis Priory School | 500 S. Mason Road | St. Louis, Mo. 63141
314.434.3690 | www.priory.org
Unsubscribe